Whatever holiday it is that you celebrate.
What sort of traditions do you have in your family?
We have several that the children enjoy. Occasionally we will try something new, add it into the mix and sometimes they stick and sometimes they don't. The Advent calendar is one of those things. If I buy one the kids like it, but they don't really miss it if I forget, like I did this year. I am going to spend the next week talking about the various traditions that we have established for our family during the holidays.
We are a family of readers. it only makes sense that the first tradition I write about is about books.

Christmas Books:
Every year I wrap all of our Christmas story books in wrapping paper and put them in a basket. Each day the younger children take turns picking out and unwrapping a book for us to read. And yes, we have over 25 of them. (Advent varies slightly in length from year to year– this year it began December 2nd, so we will double up on a day when one of the children happens to pick a short book.)
The books vary from the tried and true old classics like, Twas the Night before Christmas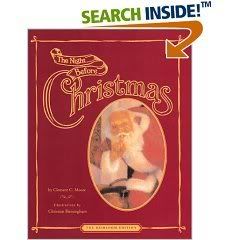 to the modern classic, Polar Express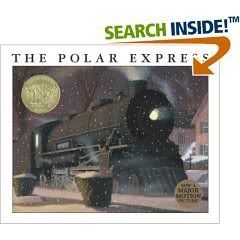 to books like the Berenstain Bears visit Santa Bear, I'm not posting a picture of this one.
Every year I try to buy a few more books to add to the mix to replace some of the lesser loved (usually by me) or too juvenile ones in our collection. I look for rich quality pictures and an engaging storyline that appeals to both grown-ups and children.
Today we read The Christmas Miracle of Jonathon Toomey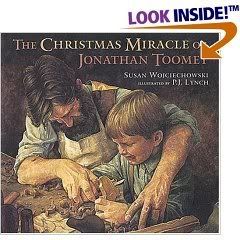 This book is a perfect example of the sort I try to find. The story is deep enough that a twelve year old can listen to it and discuss it afterward, but the beautifully detailed illustrations keep the interest of an almost 2yr old while I am reading.
So tell me what are your holiday traditions? Do you do something unique or fun that your family enjoys? Or did you do something as a child that you hope to continue as an adult?
Write about it on your own blog if you like and leave a link to the post in the comments.

(Originally posted Dec. 8, 2006. Reposted by request.)