Hands down my children's favorite Christmas tradition is the Advent Wreath.
Every night before bedtime during Advent we light the candles in our wreath and sit down to listen to our Advent story. Most of the time the children will have cookies and eggnog while I read. It helps to keep the mouths of the younger children busy doing somethig else besides talking.
Some years we have made the wreath, some years we have made the candles. We have had candles that were colored other than the traditional purple and pink. We have kept the wreath in various rooms in our houses depending on how we decorated that year. This year for the first time we have it as a centerpiece on our kitchen table. It may not survive to use another year.
But those things aren't the important part of the tradition. What the children like most is all of us gathering together around the candle lit wreath and reading together. Each night a different child has a turn lighting, and then blowing out, the candles.
For the past six years or so we have been alternating reading the books in the Jotham's Journey trilogy. We have tried other books, but none of them have held their interest the way that these books do.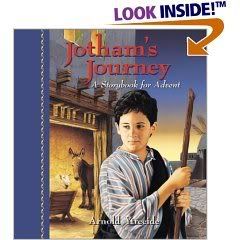 These books have a child as the main character who faces some some sort of adversity that they must overcome. Their paths cross in the three books and they all end up in Bethlehem for the birth of Jesus. The stories are along the lines of historical fiction in that the settings and places give a picture of what life must have been like 2000 years ago.
This year we are reading Bartholomew's Passage. Bartholomew is a boy who was kidnapped by the Roman army and sold into slavery. These stories have the added benefit of givig me the ability to say to children afflicted with the gimmees, "Do you think Bartholomew would have been grateful?" Okay, I am kidding. (Maybe)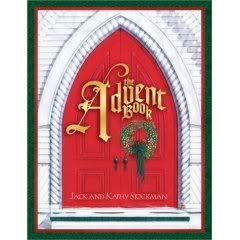 This book is beautiful for youger children, I'd estimate 4-8 yrs old. It is a great coffee table book for any ages. I really like this hefty book, but for our nightly reading I wanted something meatier to read.
The description for amazon says: There are 25 pages–one for each day of Advent–that feature a door that actually opens. And behind each door is an appropriate picture and a part of the Christmas story with simple text that even the youngest can understand.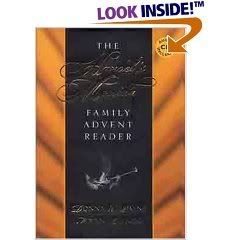 I have been selectively chosing readings out of this book this year. Today I read from it a retelling of the classic O. Henry story "The Gift of the Magi" and it prompted a good conversation with my older children about giving.
The stories give the scoop behind many of the customs of Christmas (What is frankincense? Who were the magi? What was the Christmas star?) These are stories about a strange Christmas truce, about Charles Dickens, an unusual Christmas tree, and many other items you may never have heard about. Each story begins with a portion of the words from Handel's "Messiah" and is linked to the music which is included on the free CD included with the book. Each story is illustrated by a beautiful full-color drawing from classic works of art, and there is an end-section that is chock full of fascinating facts, trivia, and activities. (description from the amazon website)
We listen to a CD of Handel's Messiah that is not the one that came with the book. It makes nice background music in the house during the Christmas season. The linking of the stories in the text to the CD seems a bit forced to me in the case of many of the stories, but overall if you are looking for a way to work listening to this classic piece of Christmas music into your Advent season, you couldn't go wrong with this book/cd set.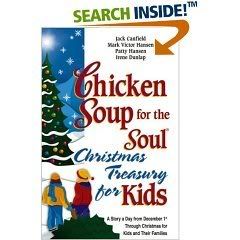 A friend just told me about this book and I am considering buying it to add to our repetoire for next year. These short feel good type of stories are perfect for the kids to listen to.
*****
Even if you are not Christian or particularly religious I think gathering together every night with your entire family, reading by candlelight, and sharing some good stories is a worthwhile experience. It sets apart this time of year as special. A time that encourages us to think more of others, to be a tad more considerate than we might ordinarily be, and to build some memeories that will be cherished for years to come.